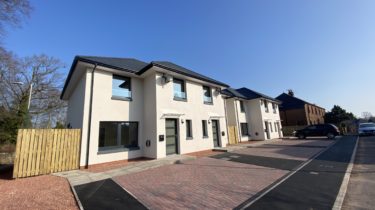 Back to News
4 New Certified Passive Houses
15 April 2021
This Certified Passive House development is Loreburn Housing Association's first Passive House Certified development, and was built by Robison Construction.
The design provides family houses which meet the Passivhaus very low energy standard. This uses excellent insulation standards, careful detailing to avoid thermal bridging, triple glazed efficient windows, controlled ventilation with heat recovery (MVHR), and orientation for solar gain, all of which combine to minimise energy demand. Regular airtightness testing during construction plus high-quality workmanship achieved this successful outcome.
The houses have good space standards for flexibility, individual private gardens, and are attractive 3-bedroom family homes.
The Passive House Certification Platform was used to provide evidence for checking by the independent Passive House Certifier.  Formal certification was achieved and the houses are now registered on the International Passive House Database: passivehouse-database.org