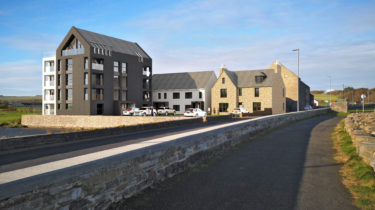 Back to News
Ayre Embankment, Kirkwall
01 September 2021
Planning Permission has been granted for the Ayre Embankment development, providing a mix of flats and houses and restoring Ayre House.
The design evolved as a "modern vernacular" based on traditional forms, respecting the visual strength of the existing Ayre Mill. Ayre House will be made into two new homes. A new terrace of houses and a striking five storey flatted block reflect the prominence of the site.
The layout has a courtyard-effect parking area and a landscaped garden setting. The flats have been designed with inset corner balconies to take advantage of the fine views across the Peedie Sea towards the town centre, the harbour and to the sea. The balconies provide visual interest and protection from the wind.
All of the houses will be well-insulated so that they are easy to heat, and will receive direct sunlight given the open southerly aspects.
The development is a good balance of conservation and modern design. Ayre House will receive natural slate roofing and repointing of the stonework, and the terrace and flats will have high quality modern materials, to give an uplifting development in this fine location.