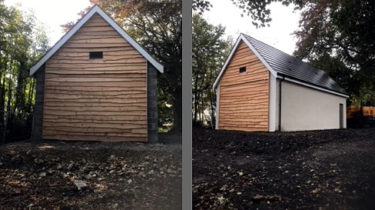 Back to News
Bideford Bat House
31 October 2020
This unusual building provides roost and hibernation space for various types of bats as part of the mitigation measures relating to the new Bideford Care Home project.
It has been designed to accommodate Pipistrelle and Lesser Horseshoe bats, providing a number of chambers and access points to suit the various species.
The orientation of the 50sq.m. building suits bat entry and exit for foraging. The interior has a variety of roosting points with crevices, baffles, and beams. Daylight is excluded, and the temperature and humidity are naturally balanced to maintain suitable conditions for hibernation.