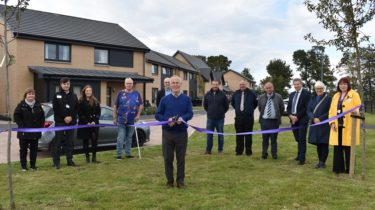 Back to News
Official Opening held for Heathhall Development
03 October 2022
We were delighted to attend the official opening of our completed affordable housing development at Herries Avenue, Dumfries to our client Loreburn Housing Association.
This development delivers 75 new-build, energy-efficient, affordable homes on a brownfield site of the former college.
The dwellings were designed for different client groups and local demand, included mainstream, housing for special needs and older people. The multi-generational approach is hoped to help re-establish community links and bring people together.
Our customers have told us how delighted they are with the quality and design standards of their new homes, and we hope they enjoy a long and happy future here at Heathhall.

Our vision is to create GREAT places to live and Heathhall is a fantastic example. A place to build a community in homes that are adaptable and that can meet our customers' current and future needs.