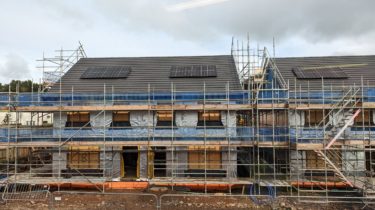 Back to News
16 Passive Houses Progressing on Site for Loreburn
07 September 2022
Our Passive House affordable housing development at New Road, Dalbeattie is progressing on site.
This is our third and largest Passive House development to date for Loreburn Housing Association.
The development regenerates a brownfield site and will provide 16 affordable homes designed to Passive House standards.
Each home incorporates high performing and low-energy design principles including:
Super insulated thermal and airtight envelope.
High performance airtight triple-glazed windows and doors; maximising solar gains, for thermal retention and reduction of outside noise.
Continuously running mechanical ventilation system with heat recovery capable of retaining 92% from the extracted heat, providing a fresh, filtered air supply.
Minimal thermal bridging.
Solar photovoltaic panels to reduce daytime electrical energy costs.
Air source heat pump providing heating and hot water.
Rainwater harvesting.
Electrical vehicle charging point.
We look forward to seeing this development progress on site over the next few months.