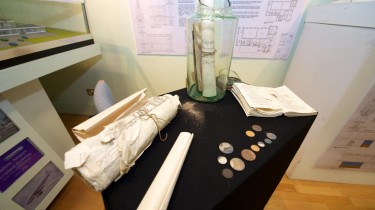 Back to News
Time Capsule from 1872 Discovered
14 September 2011
During the restoration work being carried out at Renfrew Town Hall a glass time capsule has been found high up in the facade. This fascinating object contained newspapers, coins and other artifacts.
See National TV news feature: www.youtube.com/watch?v=h7TifvzeoGs
The project involves extensive stone repairs, roof replacement, ornate plasterwork restoration, and wide-ranging conservation input from Robert Potter & Partners.