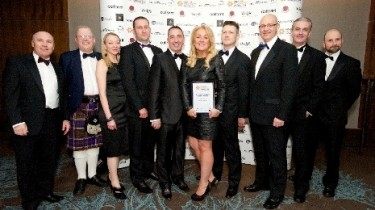 Back to News
Town Centre Regeneration Project of the Year
28 February 2014
Opera House in Kilmarnock by KLIN Group was named Town Centre Regeneration Project of the Year at the Scottish Property Awards ceremony last night. The building had been devastated by fire and had lain derelict for 22 years. We were responsible for Conservation Architect input for retention of the 1875 historic facade.
The awards attracted 61 entries and Marie Macklin, Chairwoman of KLIN Group said,
We are thrilled to have been recognised by the Scottish Property Awards for our work and commitment to the Kilmarnock Opera House development.  This is a project very close to my heart, which succeeded due to tenacity, innovation and partnership working. I'm incredibly proud of this restoration project and the benefits it has delivered.