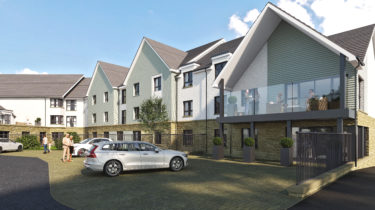 Back to News
Bideford Care Home on site in North Devon
02 September 2022
This new-build care home is advanced on site in the picturesque historic port town of Bideford in North Devon. The design is 3 storey in a mature garden setting in the heart of the town.
Facilities include gym, cinema room, dayroom and large terraced balconies. External materials use reconstructed stone and colourful non-combustible fibre-cement cladding.
Ecological enhancements included the Bideford Bat House to accommodate a variety of bat species.