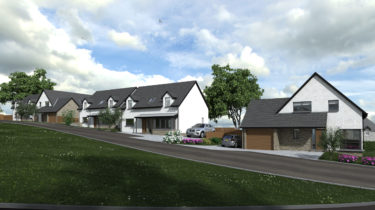 Back to News
Planning Permission Granted for Wigtown Housing Development
26 August 2022
Grant of Planning Permission has been received for a new housing development in Wigtown, Dumfries and Galloway for our client, 3B Construction Limited.
The proposed development is for a residential development comprising a mixture of 1 and 2 storey detached, semi-detached and terraced houses providing 43 homes in total.
A significant aspect to the design concept was the provision of a central open space area. This not only reflects the use of the site as the former agricultural showground and with a potential location to the north of the site preserves the boundary to the Conservation Area with traditional stone wall and mature trees forming part of open space.
The design concept also provides a highly desirable approach to housing to create such a large and open parkland for community use within a housing development and an excellent opportunity and provides an exciting opportunity for a high-quality housing development.
Boundary treatments and trees were also significant aspects to the design concept for integration and retention of the significant and important aspects including original stone boundary wall links and mature trees to the central open space.
We look forward to working on the next stages of these projects.