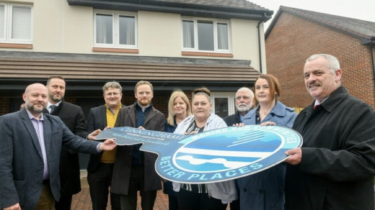 Back to News
Cunninghame Reach Housing Milestone
29 March 2022
We were pleased to attend at ceremony at our affordable housing development at Hallmeadow, Annan to mark our client Cunninghame Housing Association completing their 300th new home in Dumfries and Galloway.
The masterplanned development at Hallmeadow for 130 homes provides a housing mix comprises a mixture of 2- and 3-bedroom general needs houses, as well as 8 bungalows designed for amenity use and 5 wheelchair friendly designed bungalows.
69 of the 130 homes on the Hallmeadow site have been completed and handed over, with the remainder due for completion later this year.
Our affordable housing development at Halcrow, Gretna (Phase 1) completed in 2019 provided 90 affordable homes which contributed to Cunninghame Housing Association's housing milestone completed to date in Dumfries and Galloway.
We look forward to working together with Cunninghame Housing Association to add to this total.