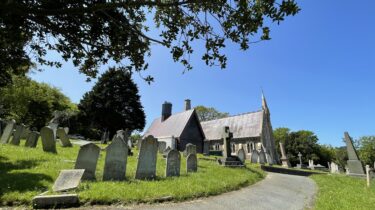 Back to News
Guernsey Crematorium Completed
15 July 2023
Guernsey Crematorium has been completed. The project assessed the potential of sites across the island, exploring potential for new-build in various locations or expansion at the existing 1929 crematory. The selected option was a new-build crematory adjacent to the historic chapel at Le Foulon, securing the building's use for future generations.
The crematory has a pitched copper roof and proportions in keeping with the existing chapel, and the work included refurbishment of the chapel interior with new insulation, breaking out and replacement of existing thin concrete floor to provide an insulated underfloor heating system with timber-effect ceramic flooring, renovation plaster and mineral paint to overcome historic problems with moisture ingress and efflorescence, new lighting and sound system, new staff facilities and toilet facilities, and new incoming services.
External works included a new car park for mourners, widening of the historic gates, alterations to the internal road network to widen this for cars and hearses, and improvements to the steep path leading to the chapel by changing the steep slope to become a shallower stepped route.
We engaged local architects Turnstone as our sub-consultant, and worked with project manager Rose Project Management, engineer Dorey Lyle & Ashman, and M&E consultant Hoare Lea. The main contractor was JW Rihoy and Sons, and the project was funded by States of Guernsey.