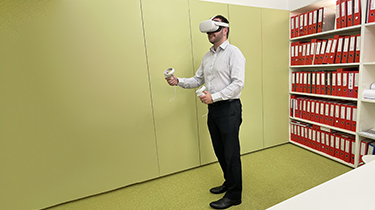 Back to News
Designing Homes for Healthy Cognitive Ageing Workshop Held
12 July 2023
We were delighted to welcome Designing Homes for Healthy Cognitive Ageing (DesHCA) to our Glasgow office to discuss the challenges and benefits of supportive home design.
During the workshop we used Virtual Reality to explore the practical factors that influence the design of new houses to support healthy cognitive ageing.
DesHCA is an innovative and ambitious UKRI-funded research project based at the University of Stirling that aims to explore the issues around supportive home design and adaptations from many different perspectives.
Their research, which will run until the spring of 2024, is learning about what older people need and want in their homes today, and asking what they hope houses might look like in the future.
The data collected will sit alongside information drawn from large, well-established databases to help understand the issues around supportive design and adaptation on a national and international level.