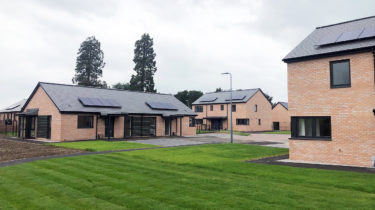 Back to News
Lincluden Stables, Dumfries
14 September 2021
The first phase of our affordable housing development at the former Lincluden Stables, Dumfries has now been handed over to Dumfries and Galloway Housing Partnership. This phase provides twenty-six affordable homes on a brownfield site containing a Category B Listed stable block and adjacent to existing parkland.
The location of the former stable block was the significant feature and influenced the design concept. The historic path network of Lincluden Gardens was referenced when developing the design concept for the urban pattern of new housing, ensuring the former stable block remains the key focus while allowing the reintegration of the site through a series of footpath connections to the park landscape.
All houses achieve Silver Active Level of Sustainability and compliance with Housing for Varying Needs and Secured by Design.
Works continue on site as a second phase restorating and converting the listed building to provide a further six affordable homes for completion in 2022.