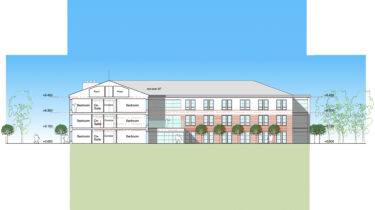 Back to News
Planning Permission for Doncaster Care Home
24 April 2023
This 3 storey care home has been approved by Doncaster Council and will provide 64 bedrooms with supporting accommodation. The low energy strategy is based on heat pumps and photovoltaic panels for micro-generation.
The site fronts Armthorpe Road and the existing tree lined green corridor is being protected and preserved. New planting and south facing gardens will provide ecological enhancements and an attractive landscape setting for residents.
The ecological net gain is being further enhanced by bat and bird boxes and hedgehog holes incorporated in the site boundary fencing.
Care was taken in the design to avoid overshadowing of neighbouring properties in this established residential area. The three storey plan includes an external balcony area for residents' use in fine weather.