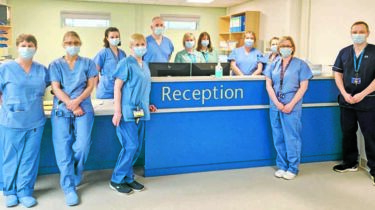 Back to News
New Ophthalmology Unit Opens in Dumfries
11 April 2023
A team of staff at Mountainhall Treatment Centre, Dumfries have officially welcomed patients into a brand new Ophthalmology Unit and into the hub of the outpatient facility that serves the whole of Dumfries & Galloway.
We were appointed by NHS Dumfries & Galloway to provide architectural services to design the new Ophthalmology Unit and to lead the project through all the design and construction phases.
The spacious unit comprises modern clinical theatre, consulting rooms, bright and relaxing waiting areas for patients, and for staff an improved clinical working environment, and dedicated change and rest areas. Situated on the ground floor of Mountainhall the unit is now located close to other outpatient services and with easy access to toilets and cafe.
Keith Thomson, Project Manager of NHS Dumfries & Galloway commented:
This has been a really satisfying project as staff were more than ready for the move to a modern facility in the kind of environment that allows them to provide the best possible care for patients. They have been brilliant to work with and it's so good to see how happy they are with the new unit.

In practical terms the layout has been designed fit for purpose and there are improved ventilation and air conditioning systems. Aesthetically it's a really nice space with calming colours and a unique window feature that reflects our focus on wellbeing for patients and staff.

I've been fortunate to work with excellent local and national contractors and a so a big thank you to them for making this a smooth process and contributing to this outcome for patients and staff.