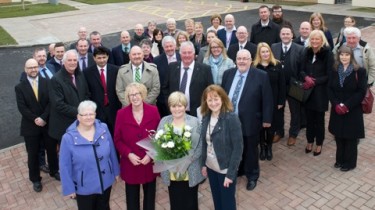 Back to News
Rankin Court Housing Completed
15 March 2016
Barrhead Housing Association celebrated the opening of 15 new homes in Rankin Court, Barrhead on 15th March 2016. The £1.6m development was formally opened by Margaret Burgess, MSP and Minister for Housing and Welfare.
On the site of the former St John's primary school, the land was successfully transferred from East Renfrewshire Council early last year to allow for the demolition of the existing building. The developer, McTaggart Construction, commenced on-site last April 2015.
The Association received funding of £837,000 from the Scottish Government to complete the site. Development agency services were provided by Atrium Homes based in Kilmarnock and the design team was led by Robert Potter Architects from their Ayr office.
Of the new homes, Barrhead HA's chairperson Rena McGuire said, "The Association is delighted to complete this development – the first new build completed by Barrhead HA since 2010. All new homes have been allocated from the East Renfrewshire Housing Register."
Formally opening the development, Mrs Burgess said, "The Scottish Government has invested more than £800,000 to help Barrhead Housing Association to deliver these 15 high quality homes. The completion of the £1.6 million development is good news for local families who have been given access to much-needed affordable homes."
Soon to be getting her keys to her new home, prospective tenant Mary McDade said,
I'm absolutely delighted with my new home – it's just lovely. It will be easy to heat and there is space for everything I need. Thanks to the Association.