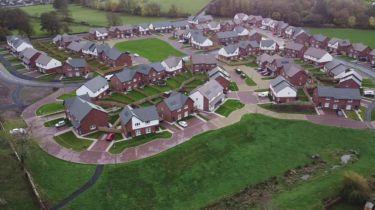 Back to News
Hallmeadow Completed for Cunninghame
07 November 2022
We were thrilled to attend the official ceremony marking the completion of 130 new homes in Annan for our client Cunninghame Housing Association Ltd.
The masterplanned development at Hallmeadow for 130 homes provides a housing mixture of 2- and 3-bedroom general needs houses, as well as 8 bungalows designed for amenity use and 5 wheelchair friendly designed bungalows.
Designed with a focus on people, not vehicles, the layout incorporates the principles of 'Designing Streets' resulting in a well-connected safe and distinctive development with improved access and permeability for all local residents.
Throughout the site we incorporated dedicated pocket parks, amenity areas and landscaped areas which together make up a network of green spaces and landscaped walks with wider connections to the local area. These are supplemented with appropriate planting to create attractive areas with enhanced biodiversity.